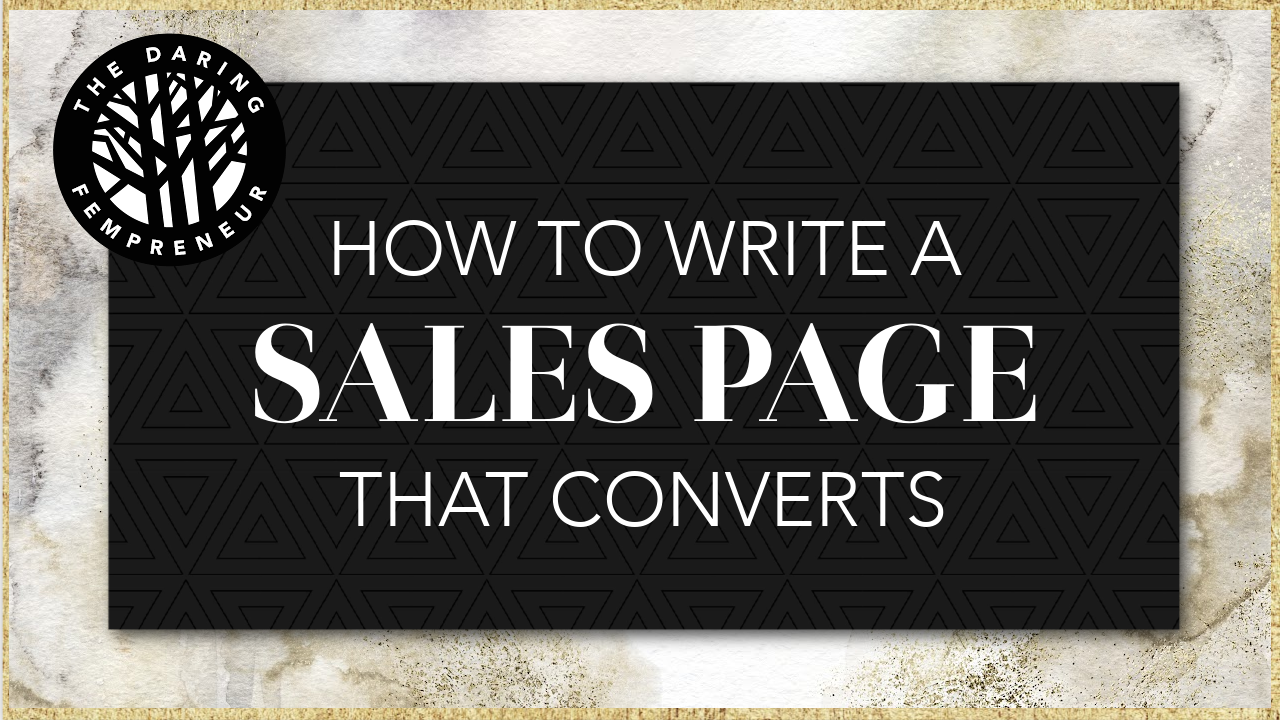 How to Write a Sales Page That Converts
May 26, 2023
One of the worst feelings in the world is knowing you have a life-changing service to share, but not knowing how to communicate this service so potential clients are inspired to work with you!
If there's one thing your website should do, it should help you communicate your service so you can attract more clients, fill your programs and make the money you desire and deserve.
And that's where your sales page comes in.
A sales page is not just a landing page. It is the destination you want to guide your client to throughout your website, and then guide them through to the purchase point on the sales page itself.
But there's a lot more to writing a sales page that converts than slapping up a page you created on a whim and expecting the sales to come rolling in. There are some key factors that go into creating a sales page that converts, so make sure to have the following elements in-place before you start putting together your sales page.
Know What You're Actually Selling
Now, you might be thinking… "Jessie May, I know what I sell, and I don't plan on changing that!" And I get it. We know that you sell life coaching, nutrition counseling, marketing services, or whatever the incredible methodology you use is.
But your sales page is not the place to go into the intricate details of your methodology – if you do, you'll be losing precious website real estate, and the ability to let your sales page inspire your ideal client.
Here's a mindset shift worth millions: If you're a fitness coach for women over 60, you're NOT selling fitness coaching.
What you're selling is the RESULT your audience most desires and the inspiration and hope that achieving it is possible.
So in the case of the Fitness Coach for women over 60, what she's selling could be the hope of regaining energy and being strong enough to play soccer with her grandkids in the park.
It's important to show your audience that you can meet them where they are, and help elevate them to that next level they're aiming for. Get them inspired by showing what could be possible when they work with you by sharing your solution to their specific problem, rather than focusing solely on the details about your methodologies.

There is definitely a time and place for the details of your offer on the sales page, but first, focus on the transformation your potential client can look forward to when they work with you. Your sales page needs to communicate how you can solve the problem they are experiencing. Think about their specific pain points and desires, and share how you can help them through your sales page.
Communicate the Details of Your Offer
Now, we just discovered what you're actually selling through your sales page – results, transformations, and ultimately hope.
Next, we need to discover how to communicate the details of your offer (this could be a course, group or private coaching program, mastermind, membership, VIP day or any other offer you will feature on your sales page) so your reader knows the logistics of what they'll be receiving when they sign up. Clarity leads to more sales, so the goal is to answer your reader's questions before they even have to ask!
I cover how to communicate your offer in depth, in my Sales Page Template and Course inside my Impact Tribe member's area, but here's a snapshot:
Outline the Process
If your offer follows a specific process with modules, lessons, phases or steps, briefly outline this process on your sales page. This helps your reader feel confident in you as their guide because you've created a clear container for their transformation to unfold.
To create your outline, choose a results-oriented title for each module, followed by a short paragraph or bullet list that showcases the tool, method, formula or system you'll be using to get them that result along with the benefit.
Here's an example of Phase #2 of a 7-phase process from one of my retired offers:
Phase #2: Pinpoint Your Profitable Niche
Once we've honed in on your personal brand, it's time to clarify WHO your brand is speaking to. With thousands of new fempreneurs entering the scene every day, having a niche is no longer an option if you want to build a 6 or 7 figure brand.
In this phase, you'll ...
Learn my Profitable Niche Formula

that makes building your niche super easy by breaking it down into 5 KEY parts.
Get clear on your ideal client

once and for all so you stop attracting nightmare clients or people who don't want to pay you.
Test your ideal client

to determine if it's a group you can make money by serving.
Build your Ideal Client Profile

, which you'll use to deeply connect with your ideal clients on your website, social media, webinars, talks and across your entire brand.
Notice that this section clearly describes what the reader will be doing in this phase but most importantly why what they'll be doing is important and should matter to them.
Outline What They'll Receive When They Sign Up for Your Offer
The second place to describe the details of your offer on your sales page is a section where you outline what someone will receive when they sign up. This refers to the specific things they'll get for their money and is different from the process they will be guided through. For example, when they purchase your offer, they might get:
One, 4-hour VIP day

6 Private Coaching sessions

Unlimited Email access

Access to a private Facebook group

3 Group Coaching Calls

Beautiful Workbooks, templates, checklists

Weekly Journal Prompts
Note that your offer can be as unique as you, and can include whatever you want it to - it does not have to be limited to the list above. Inside my Power of Programs course in my Impact Tribe membership, I provide a Program Component Idea Generator with dozens of ideas to choose from if you need some extra guidance.
When communicating what your potential client will receive when they purchase your offer, it's also important to include the benefit of receiving it. People don't care about getting lots of stuff - if you want your sales page to convert (which I know you do!), you need to take it the extra step by showing them why they should care.
Here's an example from one of my retired offers that showcases one of the things my clients received in my program:
Unlimited Email Support
Never feel stranded trying to figure out the answers on your own. I'm always just an email away! Take advantage of this unlimited support to maintain momentum and achieve maximum results in record time.
Understand Your Ideal Client
When your ideal client lands on your sales page, you want them to feel as though you're speaking directly to them – like they're in the right place, no question about it.
Something I see all too often with fempreneurs struggling to write sales page copy is that they either don't know who their ideal client is, or they have too many "ideal clients." When either of these are true, not only does it make writing your sales page copy extremely difficult, but your final result will be less poignant to your reader because it will be watered down and over generalized.
You've likely heard that when you speak to everyone, you speak to no one – that's especially true on your sales page.
Honing in and knowing specifically who you're speaking to is an essential step to writing your sales page copy. Without this solidified, your sales page will struggle to convert clients the way you want it to.

If you want to take this topic deeper, I've created a whole guide on how to understand your ideal client – read the guide at this link.
Infuse Your Brand Personality Into Your Sales Page
When a prospective client lands on your sales page, they need to feel a connection with you if they're going to stick around, explore your offer, and take the leap to invest in working with you. This is especially true for coaches and other service providers who work personally with their clients in one-on-one or group settings.
This connection is created by how you communicate your brand personality, vibe, values and differentiators through the messaging and visuals on your sales page.
Because your brand personality needs to be infused into your entire website, not just your sales page, I recommend taking some time to clarify and define your brand personality before building your sales page so that your brand is consistent throughout your business.

If you need some help figuring out who you are as the leader of your brand, a good place to start is with my free Brand Personality Quiz!
Inspire Potential Clients
One of the biggest mistakes I see made on sales pages is not including social proof or testimonials. Social proof not only shows that you have real experience in your work, but it's also one of the most effective ways to inspire your potential clients to take action. Rather than being positioned as a sales pitch, testimonials come across as more authentic and unbiased, which resonates more with potential clients.
Think about courses or programs you've purchased in the past… I'm guessing you are more likely to invest when the program has lots of great testimonials and social proof as opposed to none.
To discover how you can ask current or past clients for testimonials that will actually help your sales page convert, check out this blog post.
Creating a Clear Call to Action
This one might seem obvious, but it is something that is all too often overlooked on many sales pages. Make sure it's crystal clear to your visitors what they need to do to sign up for your offer.
Can they purchase right there on the page?
Do they need to book an initial conversation with you first to determine if it's a good fit?
Either way, clearly outline any steps to get started including at least one call to action button (probably more depending on the length of your page) that is easily visible on the page.
Choosing the best color for your call to action button:
Choose a color that contrasts from the page background. Bright colors, such as yellow, red, orange and gold are great for calls to action because, from a color psychology perspective, these colors have more action-oriented energy.
Choosing the best wording for your call to action button:
It may seem simple, but it's important that your call to action button wording is clear, while also having energy behind the words.
It can be tempting to get creative with your wording by adding specific brand words into your buttons, but be careful - you never want to sacrifice clarity on your call to action buttons. This is the most important button your website visitor will click that leads to greater impact in their lives and more income for you! There are many places to infuse your brand into your sales page aside from call to action buttons.
Examples of clear calls to action include:
Sign me up!

Book my discovery call

Join now

Schedule an initial consult

Join the membership

Join the waitlist

Reserve your seat

Yes, I want this!

Click here to get started

I'm in!

Yes, I want access!
So … what about the basics, like "buy now" or "purchase" for your call to action buttons? While these are clear, they are extremely generic and boring. As much as you can (while keeping your button wording clear) I recommend adding some personalization and energy to your words by using one of the examples above.
There's so much that goes into creating a beautiful, purposeful, and effective website that works for you – beyond just the sales page.
To learn more about building a profitable website (or revamping your website to be the best it can possibly be), grab a free copy of my Profitable Website Guidebook.
Or if you're ready to get started writing your sales page right away, join my Impact Tribe membership for immediate access to my Power of Programs Course and sales page template designed to help you create a program and sales page that convert!